About company
Moderno Mundo sp. z o.o. - about us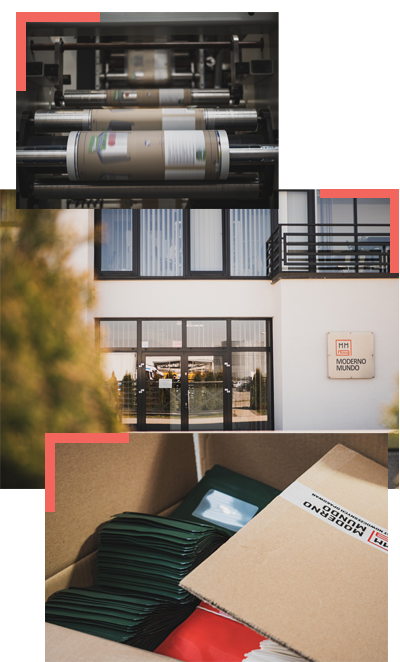 For many years Moderno Mundo sp. z o.o. has been manufacturing multilayer films and packaging for various industries. We are a recognized brand on the Polish and European market of packagings and film laminates. The company is conveniently located between Berlin and Warsaw, close to the A2 freeway.
In recent years we have become one of the largest manufacturers of doypack packaging in Europe, having 5 production lines dedicated only for this type of packaging. Constantly implemented improvements and innovations make us one of the companies that create market trends. We currently produce about 50 million packaging units per year.
Our clients are production plants that operate in the following industries: food processing (cereals, flours, nuts, seeds, oily fruits, cocoa, vegetables, dried fruits, spices), meat, dairy, chemical (powders, tablets, fluids, tissues, concentrates), confectionery, ready meals, feeds and chews for pets.
Our employees serve with professional help in selecting the type of packaging, type of overprint, and with advice in adapting packaging to a specific product.
Highly qualified and experienced personnel ensure the highest product quality and quality of customer service on the market. We wish for every customer of ours to be treated on an individual basis.
Our modern and continuously improved machine park is our pride, and it contains the most technologically advanced machinery for printing, lamination, film cutting, and bag and packaging production. We possess our own prepress facilities, which allows us to create a packaging from its design until the final product.
We provide an individual caretaker, always informed of an order's progress, and technological consulting in the scope of selecting the proper packaging, for every customer. Many years of experience, the high quality of the products we offer, and our well-established position on the market have allowed us, as a renowned manufacturer of film packaging, to fill every order, no matter how atypical. Quick action and efficient performance are the key to our success.