Doypacks
Flexo-printed doypacks.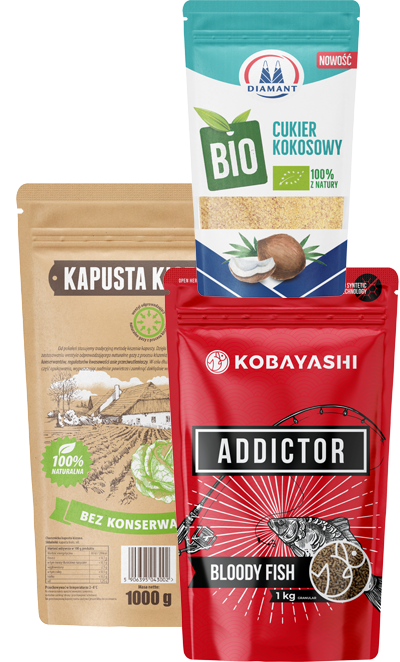 We produce doypacks from multilayer laminates – printed, colorless, metallic, aluminum and paper (PET/PE, PETmet/PE, PET/AL./PE, PP/PP, PAP/PET/PE, etc.). We offer unprinted and flexo-printed doypacks.
Every doypack may be provided with a zip, euroslot, finger grip, tear notch, plug and degassing valve. Also, to make packaging easier to the client, we can produce doypacks with an open zip and rounded corners.
Doypacks are produced from high-barrier film for high mechanical strength, high barrier performance and low permeability of odors and gases. An additional advantage is a great appeal to the eye of the packaging standing on the store shelf. The aesthetic of manufacture, shape and bond strength draw attention.
We added to our extensive range of products innovative doypack packaging protected by UV visible print and a laser score.
Based on our R&D work, we have launched improved doypacks characterized by:
- sign confirming the genuineness allowing for unambiguous verification of the genuineness of the packaging and the product, while protecting it against counterfeiting
- laser score that allows to tear off an even strip exactly on the score
Doypacks find application in the packaging of loose products (zipped doypack) and liquid products (doypack with a plug) in the following industries:
food industry (seeds, nuts and dried fruit, flour, coffee, grains, tea, sugar, salt, groats, dried mushrooms, herbs, dietary supplements, ketchup, sauces, spices, sports supplements, honey)
pet food industry (dogchews, food, snacks, odor absorbers, groundbaits)
chemical industry (granulates, pellets, powders, household chemicals, drugs, washer fluids, sea salts, shampoos)
confectionery (candy, rolled wafers, lollipops, fondants)
and many others (building blocks, toys, tools).
Our products include paper, colorless, metallic and aluminum doypacks with various volume, width and length. The film packaging offered by our company has dedicated certificates permitting it to come into contact with food.
Our reliability is evidenced by the orders we have delivered so far and by the wide range of satisfied clients in Poland and across Europe. Feel free to consult our sales department, who will be happy to provide you with all information and advise you on the selection of suitable packaging.
Open zip-lock
Euro hole
Closed zip-lock
"Bean" handle
Easy-open tear
Spout
Rounded corners
Laser line
Window
Paper touch lacquer
UV
Valve