Films on roll
Printed laminates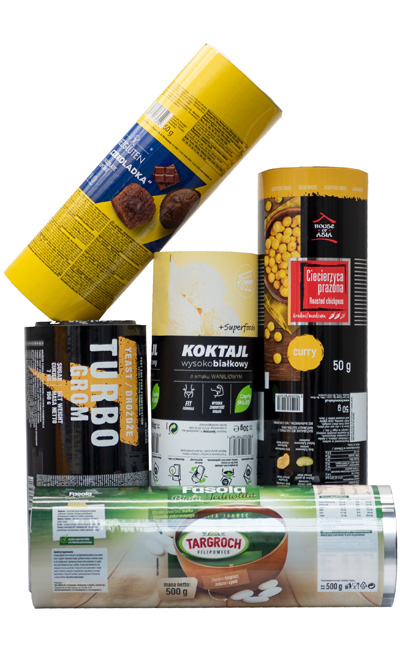 The primary profile of our activity is the manufacture of printed laminates adapted to a recipient's individual needs. We listen attentively to our customers to get to know their expectations for the product, and then together we try to choose the solution that will prove to be the most functional and encourage consumers to take an interest in the article. We offer standard BOPET/PE, BOPET/PP, BOPET/met/PE, OPP/PP, OPP/PE, PE/PE, BOPA/PE laminates as well as APET/PE laminates with EVOH, ANTIFOG, and PEEL additives. We will produce other configurations at the customer's request.
As an experienced manufacturer, we take care that the multi-layered laminates we produce are characterized by different barrier capacities depending on the structure of the raw materials and the thickness of the film. We produce printed paper laminates, metallic, colorless and aluminum laminates.
Multi-layered film laminate packaging is characterized by extraordinary mechanical strength, sheen, and high transparency. This packaging is used in many industries, for vacuum and MAP packaging, both fresh, dry and deep-frozen products.
As a reliable and professional manufacturer of laminates, we place emphasis on offering products of the highest quality, that make it possible to optimally safeguard packaged products against oxygen, water vapor, and intensive sunlight. All of our two- and three-layer film laminates we make are additionally can create durable finished packaging.
Laminates are used to pack products on vertical and horizontal packers of the following types: flow type, thermo-forming, and tray-sealer.